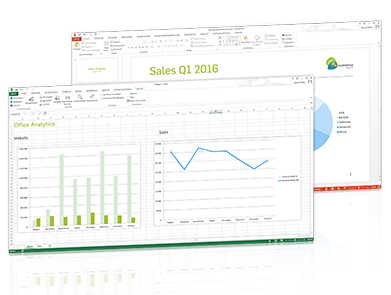 bianalytics
office
The optimal tool for creating management reports and presentations.
biAnalytics Office is another biAnalytics tool that you can add on to biAnalytics Web. The Microsoft Office add-on enables you to create reports in Word, Excel or PowerPoint with live data from your data sources – without having to leave Microsoft office.
You therefore have access to the same efficient functions that are already available in the biAnalytics Web tool: From searching through several data sources and creating views through to combining data sources and, of course, visualising your data in a PowerPoint or Word file. The best thing is: You do not have to learn a new tool because you are already familiar with Microsoft Office!